This race was a first for me, set in the grounds of 17th Century Kingston Lacy house.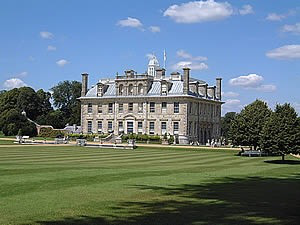 Every race these days seems to be a 'festival of running' rather than just a plain old group of races! So today there was a family fun run, a half marathon, a 10k and a 5k – probably more, but those were the ones I counted… And of course a stall selling running shoes – it wouldn't be a running festival without that ; )
Me and the wife walking down to the start!
I'm always very positive about running events as they are usually put on by clubs or charities, with volunteers giving up their time to marshal. This 'festival' however is run by professional sports events company VoTwo as a money making enterprise so I feel justified in pointing out a few areas for improvement. I welcome their response in the comments…
1) The race is advertised as chip timed. It's not.
2) The man organising the start was pretty loud, abrupt and verging on rude. Everyone lined up at a flag saying start (as you would do?!) but apparently this WASN'T the start.
3) The kilometre markers were way off. I've corroborated this with a couple of other runners. At the 4k mark, my Garmin said 4.2k – quite a difference.
4) A lot of people's official times were 20-30 seconds slower than their watches.
5) The 'live results' was actually a TV screen that you had to queue up to see for 15mins, at a time. It didn't even tell you your race position. I've known races to have initial results printed out on to paper and stuck up on a board for all to see, whilst the race is still finishing
6) The results site didn't work on my mobile.
Other than those points, the setting was beautiful, weather pristine (if a little hot), atmosphere really nice, great crowd lining the finish and the announcer lady talking all through the event was actually really entertaining and engaging!
The race itself was tough as it was very hot, even at 9:30am when it started. It meandered through a bit of grass, some gravel paths and then country lanes and was very scenic.
All was fine until a massive hill at 4k which, in the heat, seemed to suck the life out of my legs. I finished the race in 7th place and in a time of, ha! 40:43 on my Garmin and 41:01 in the official results. Think I'll go with the Garmin!